Political Leadership | Tottenham Defence Campaign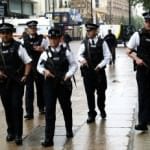 Once again our community has to pick up the pieces of major social unrest. The reasons for this outburst are many and more complex than the responses that have dominated the media in the immediacy of the event, particularly those from our political leadership. The Tottenham Defence Campaign has been formed in defence of the principle of equal treatment and due process, a defence against the dehumanising of an already demonised group of people, and a defence against the implosion of an impoverished area and its people.
Once in a while, usually after massive disorder, some of us are sought out by perplexed officials who repeat the questions they asked after the previous riot; but generally we are ignored. We cannot engage with the political process whilst suspending our critical faculties, there are far too many serious issues we want addressed – policing and real security for our communities, employment and urban renewal to name a few – and all within the framework of supporting and building our communities, not towards what others have prescribed for us, but as determined step by step by ourselves. We need more than to be 'consulted' on these matters; we need to have meaningful decision-making abilities on matters that directly affect us. This lack of a meaningful way to shape our future is also part of the cause of the disorder we have witnessed.
Launch of Tottenham Defence Campaign
These are some of the motivations behind forming the Tottenham Defence Campaign.
Further info and contact: http://www.tottenhamdefencecampaign.co.uk