Smiley Culture's death in police raid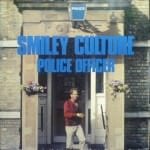 The death of Smiley Culture when Police raided his home on Tuesday 15 March is a tragedy to outrage and galvanise the Black community and their friends. Two big events so far and another one planned for May 7 mean this call for justice cannot be swept away with the usual Po-lies Con-plain-ts self-investigation committee.
Miles Franklin of the IPCC spoke at the Smiley Culture event at Lambeth Town Hall on 24th March and said the investigation would be 'sophisticated'. He was greeted with the call of 'Lie Detector' from the floor. As the Youth for Smiley Culture flyer rightly notes, the Lambeth event 'was historic and assertive in its atmosphere and peoples demands for justice after yet another death in police custody'.
The Rally and March to Scotland Yard on April 16 was attended by thousands, and brought a positive militant message of anger at the police and support for the family of Smiley and others killed by Police. The songs of Smiley resonated in chants – 'Police Officer no give me producer' re-tooled as 'Murderers' – as the rally marched through the city and the narrow streets to surround the hated Yard. The calls for Justice, for the four cops to be brought to book, for there to be a fully independent and public inquiry, not another cover up or half-baked public relations scheme, were strong on the rally.
Youth for Smiley Culture
The event in May seeks to bring this issue to our youth through film, debate and music. At The Venue ULU, Malet Street London on May 7th, there will be Smiley videos followed by a panel debate with Merlin Emmanuel (nephew of Smiley Culture), Lee Jasper, Dr Lez Henry, Isis Amlak, chaired by Sukant Chandan (Sons of Malcolm). A musical selection from Azala, Duurty Goodz and others will round off the night. The event is geared especially towards students from FE colleges and youth groups from around the capital and is billed as a purely positive event expressing the unity and assertiveness of our demands for justice.
Organised by: Sons of Malcolm and Friends. http://sonsofmalcolm.com/