Statement on the Goldsmiths Occupation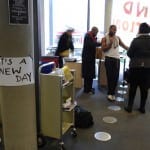 21 March – the eve of the first day of stop work by the University College Union (UCU), Goldsmiths students took a step that would demonstrate concrete solidarity and open up the possibility of new avenues of resistance. We occupied the opulent headquarters of Goldsmiths Senior Management Team at Deptford Town Hall (DTH). This move, decided upon by a grassroots meeting of students just minutes before the action, was calculated to erect new and more powerful picket lines in one of the centres of power of the university. We understood perfectly, given the cowardly position that the national student leadership took in the face a government onslaught, the difficulties our lecturers face in trying to combat the degenerate culture that passes for trade union leadership these days. We remained in Goldsmiths occupation until the morning of 26 March and collectively left DHT to join the south London feeder march.Goldsmiths Occupation Statement We have occupied the university library in opposition to the increase in university fees and cuts in education as a whole.
Goldsmiths UCU statement
Throughout the strike days, it was decided by those occupying the building that no work would take place in DTH. Rather, delegations of students were sent to help staff the official UCU picket lines. Other students stormed scab lectures, highlighting the dangers of disunity when the entire education system is under threat. On non-strike days it was decided that lecturers would be invited to re-locate their classes to the occupied DTH: an offer that was enthusiastically taken up by many lecturers and students alike. Furthermore, this demonstrated a qualitative change in how we were to imagine and confront education in this period of militancy and action. Lectures were opened up and new lines of enquiry pursued. DTH became a hub where the boundaries between education, democratic engagement and life broke down, where new bonds of solidarity were created. And it is precisely the emergence of these new bonds of solidarity that we need to foster in order to fight and win.